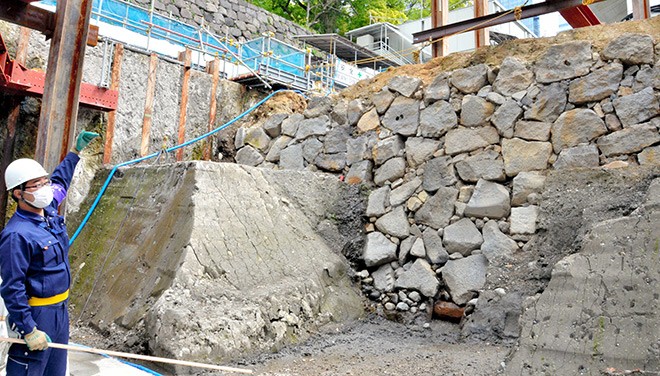 The ruins of the stone wall of Edo Castle from 400 years ago have been unearthed
A 400-year-old stone wall that was once part of Edo Castle, discovered last year in what is now Tokyo Imperial Palace, is possibly the oldest remains of the castle to ever come to light, officials said.
"This is a revolutionary find of the remains of the castle that we could only have seen in drawings or other documents," said an official from Chiyoda Ward, where the palace is located. "We can expect to learn more about the surroundings at the time and how the castle was built."
Unlike many other castle remains found in the palace, this stone wall is said to have never been rebuilt or repaired since it was built between 1608 and 1624 or so during the Keicho and Genna eras of the Edo period (1603-1867 ).
The approximately 4-meter-high stone wall was discovered in November of last year on the grounds of Sannomaru Shozokan (the Imperial Collections Museum) in the eastern gardens of the palace.
A subsequent investigation led authorities to conclude that it was probably the oldest of the castle's remains, dating from the early part of the Edo period.
The district government and the Imperial Household Agency have said they have no plans to open the site where the stone wall was discovered to the public, as reconstruction work on the museum is currently underway. In progress.
However, they said they plan to display the artefacts unearthed at the site to the public.