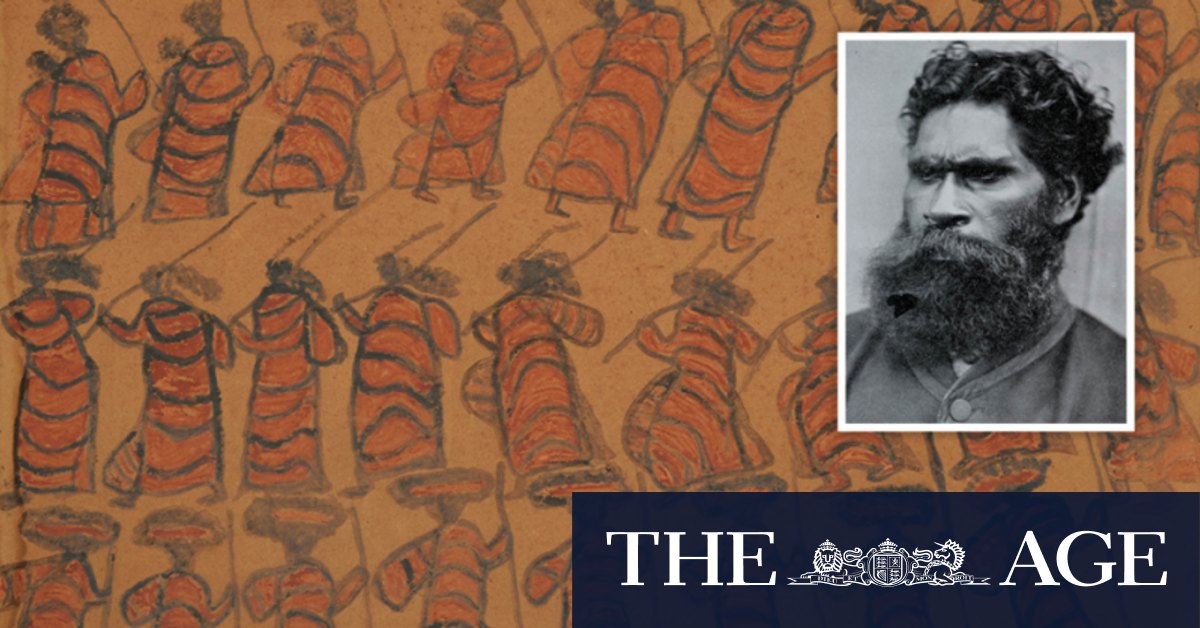 William Barak painting Corroborree to be auctioned, philanthropists wanted
The two pieces auctioned in New York were presented to Jules de Pury, a young Swiss visiting a family settled in the Yarra Valley region.
Sotheby's catalog notes indicate that de Pury returned home with the works in 1897 or 1898. The pieces remained with the de Pury family for over 100 years. They were passed on to Sotheby's Geneva recently after the death of de Pury's grandson, Pascal.
The de Pury family name remains prominent in the Yarra Valley as owners of the Yeringburg winery and vineyard in Coldstream.
Sandra de Pury said the Australian branch of the family was trying to support the return of both Barak's works to Australia and to the Wurundjeri. She said her family had no influence on Swiss de Purys' decision to sell the works.
The Coldstream de Purys donated other works by Barak to the Yarra Ranges Regional Museum a few years ago, Sandra de Pury said.
Another Barak descendant and traditional Wurundjeri owner, Mandy Nicholson, described the items as priceless. She said they should be returned, not sold to international collectors and dealers.
"We are the traditional custodians of the knowledge embedded in this image," she said.
"It's priceless, there shouldn't be a monetary tag attached to something like this. It's one of the few visuals we have of our traditional cultural practice. He's the main one who provided us with a stepping stone to the past so that we can rekindle today that cultural knowledge that he painted there," Nicholson said.
The National Gallery of Victoria's senior curator of Indigenous art, Myles Russell-Cook, said Barak's known works have left a wealth of detailed and important information about Wurundjeri cultural traditions. He said Barak's works were "of the utmost importance" to Wurundjeri culture.
Loading
"Barak's images represent a tangible connection to ancestral knowledge and valuable testimony to Indigenous ways of life both before and on the frontier," said Russell-Cook.
In April, the Wurundjeri Woi Wurrung Cultural Heritage Aboriginal Corporation launched a crowdfunding project with the aim of acquiring the work in full. By Tuesday, he had attracted around $60,000. Sotheby's estimates the painting will sell for between $430,000 and $570,000.
In 2016, another late 19th century work by Barak titled Ceremony was sold for over $512,400 by another international auction house. The artwork showed how the Wurundjeri Woi Wurrung people traditionally paint their bodies and dress at a cultural gathering, as well as their traditional use of opossum skin drums.
age attempted to contact the Swiss de Pury family through the auction house.